US $250
Shipping to Virginia $xx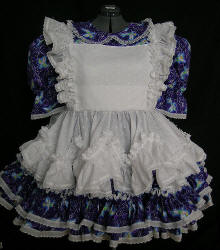 "DK Party Girl"
by UniKaren Designs
PHOTOS ARE COPYRIGHT TO UNIKARENDESIGNS. If you wish to use any photos of me modeling my dresses on your website, you MUST obtain permission.
Fabric: 100% cotton copyrighted Disney print, contrasted with 100% white eyelet
Description:
Classic UniKaren Designs "rufflebutt" dress made to order.
Full circle skirt is made from print, with attached bottom tier trimmed in white eyelet flat lace. Upper ruffle goes all the way around and sweeps up to center back. Between these two sweeps are yards and yards more ruffles.
The overskirt is white eyelet, shaped with scallops and finished with a fabric ruffle, attached with ruffled white lace. It is pleated to fit the skirt and to not interfere with the flow of the back ruffles
The bodice is made from the print, with a contrasting bib in the eyelet. Wide fabric ruffles finish both sides of the bib and go all the way to center back. A nice wide band covers the bottom of the bodice, and the sashes stem from the side seams to form a beautiful bow at center back.
Sleeves are extra long, and measure 7" from the armpit to the hem, to cover the upper arm, but a loose 21" elasticized fit helps keep them looking pouffy but allows for upper arm comfort. Pleated at the shoulder seam for a professional finish. Hems have the same white trim as the entire dress.
Peter Pan collar is the perfect finish to this adorable dress, for that classic "little girl" look.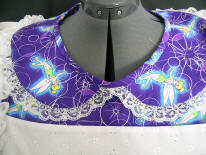 This dress was made especially for you, with my heartfelt thanks for entrusting this project to me.
May you wear it in good health and good fun for many years.
Thank you!
MEASUREMENTS
Chest: 54+"
Waist: up to 54"
Shoulder to waist: 17"
Waist to hem: 19"
Total Shoulder to Hem: 36"
Shoulder to shoulder
across the back: 23"
~ ~ ~ ~ ~ ~ ~ ~ ~
REMEMBER THIS !!
You can always wear a dress
that is too large,
but you cannot wear one
that is too small.
Check measurements, please!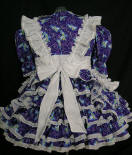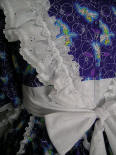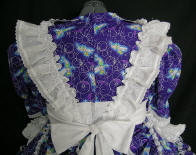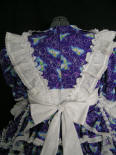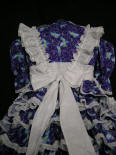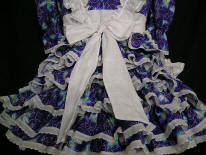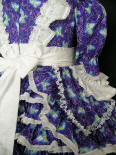 If you have questions, just ask.