Featured:
Adult Sissy black satin dress, with mock pinafore in fuchsia nylon and white ruffles to finish, includes matching bloomers.
Plagiarism: The copying of another person's ideas, text, or other creative work, and presenting it as one's own, especially without permission; Text or other work resulting from this act.


Imitated by many... Duplicated by no one
IF PHOTOS DO NOT APPEAR it's because we're using too much BANDWIDTH, in which case I will put them
.
NOT RESPONSIBLE FOR POSTAL RATES.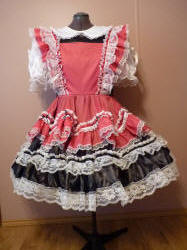 "Merry Maid"
by UniKaren Designs
PHOTOS ARE COPYRIGHT TO UNIKARENDESIGNS. If you wish to use any photos of me modeling my dresses on your website, you MUST obtain permission.
Fabric: Black shiny satin, fuchsia pink nylon (feels and acts like taffeta), white satin for contrasting collar and sleeves
Skirt fits a full petti, shown here on 100-yard crystalline one (not included). Gored skirt falls in a beautiful circle. Bottom tier is made from same satin, with white lace trim along the top edge, and wide flat scalloped lace along the hem, and it is attached with a ruffled white lace.
The overskirt is 7 scallops of fuchsia, with a ruffle made of same. Ruffles are finished with white lace along the top edge, flat lace trim on the hem, and are attached with white ruffled lace.
Bodice base is made of black satin. The contrasting fuchsia bib is attached, and finished with ruffles of the same fabric going from over the bib to center back. The are narrower at the base and widen to a nice shape over the shoulders.
Sleeves are made of contrasting white satin, and have flat wide lace decoration on the top, to match the lace of the black skirt hem. A white satin ribbon accentuates the lace design.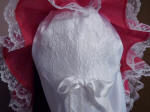 Peter Pan collar is made of contrasting white as well, with lace trim sandwiched between the layers.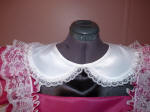 Fuchsia bloomers finish off the outfit, and include a wide fuchsia ruffle trimmed in white to go across the behind. Wide white scalloped lace finishes the hemline. Elasticized for comfort at the waist and leg openings.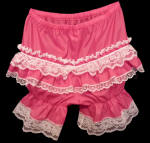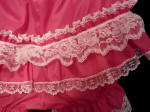 If you have questions, just ask.
MEASUREMENTS
Chest: 45"
Waist: up to 42"
Shoulder to waist: 18.5"
Waist to hem: 20"
Total Shoulder to Hem: 38.5"
Shoulder to shoulder
across the back: 17.5"
~ ~ ~ ~ ~ ~ ~ ~ ~
REMEMBER THIS !!
You can always wear a dress
that is too large,
but you cannot wear one
that is too small.
Check measurements, please!