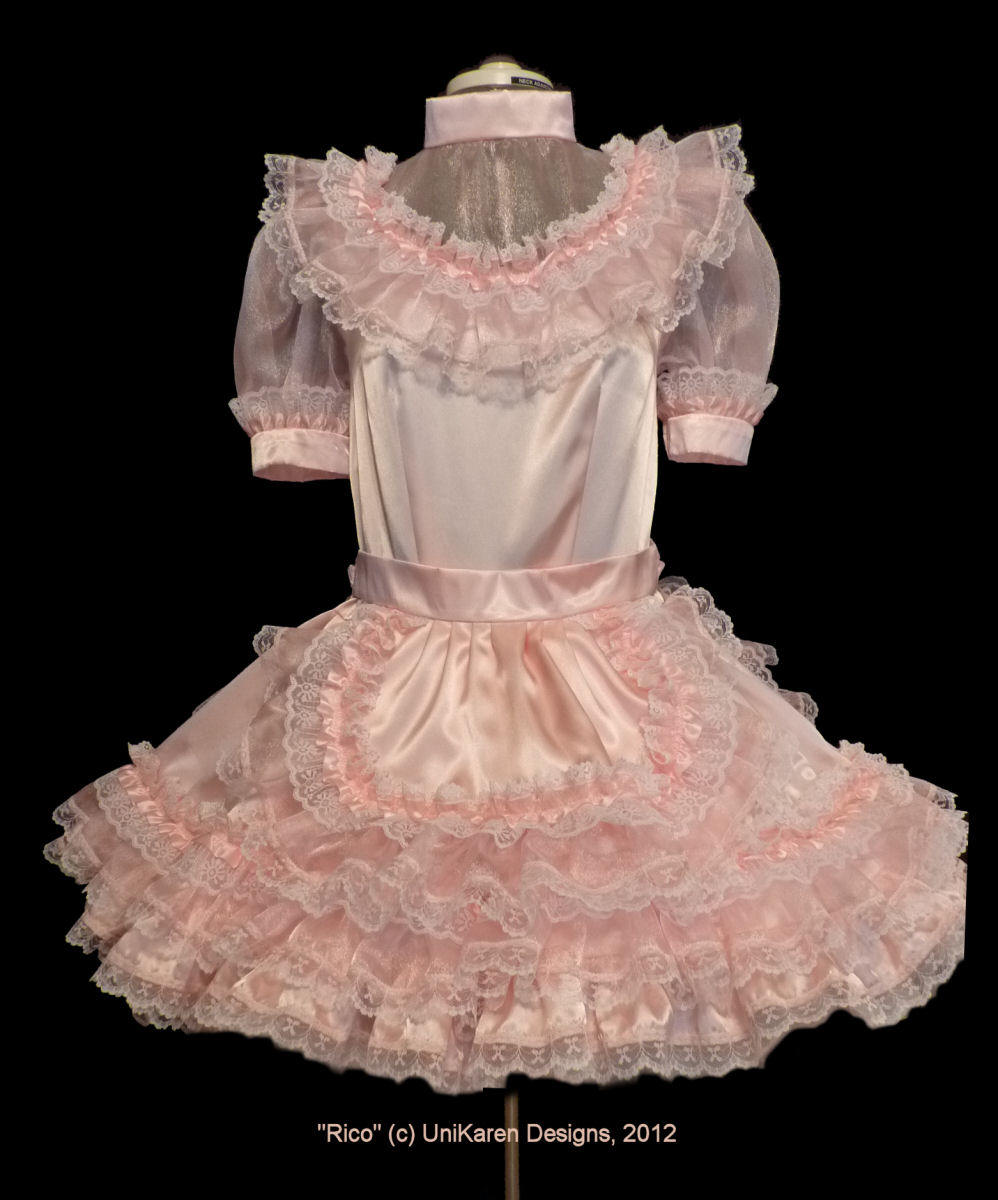 "Rico"
by UniKaren Designs
PHOTOS ARE COPYRIGHT TO UNIKARENDESIGNS. If you wish to use any photos of me modeling my dresses on your website, you MUST obtain permission.
Fabric: Gorgeous lightweight shimmery super soft baby pink satin, contrasted with shimmery pale pink organdy (organza).
Skirt fits a full petti, shown here on 100-yard crystalline one (not included). Gored skirt falls in a beautiful circle, with a bottom tier trimmed in white lace. Organdy ruffles are made with the flat white trim along the bottom edge, and narrow white flat lace along the top edge. The upper ruffle goes all the way around and sweeps up to the center back, and between the sweeps are yards and yards more ruffles to fill in the back. This UniKaren's trademark "Rufflebutt" design.
All ruffles in the outfit are attached with a double ruffled pink satin over white nylon lace.
Darted fitted bodice features a contrasted upper chest area, made from the organdy fabric. Ruffles adorn the entire chest area around to the center back.
Stand-up collar features finishes the neckline area and has a single hook & eye closure to keep the back closed.
Full pouffy sleeves are gathered into a fitted satin band, and feature the double ruffled lace peeking out from the top part of the band. Pleated at the shoulder for a professional finish.
Separate apron is self-lined in pink satin, with the same ruffles as the entire dress, as well as the double ruffled lace. Sashes are made from the organdy to lay lightly over the back ruffles.
All seams serged and pressed.
If you have questions, just ask.
MEASUREMENTS
Chest: 38"
Waist: up to 38"
Shoulder to waist: 18"
Waist to hem: 16"
Total Shoulder to Hem: 34"
Shoulder to shoulder
across the back: 14"
Neck: 16"
Sleeve band: 12"

~ ~ ~ ~ ~ ~ ~ ~ ~
REMEMBER THIS !!
You can always wear a dress
that is too large,
but you cannot wear one
that is too small.
Check measurements, please!