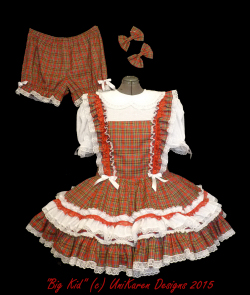 "Big Kid"
by UniKaren Designs
PHOTOS ARE COPYRIGHT TO UNIKARENDESIGNS. If you wish to use any photos of me modeling my dresses on your website, you MUST obtain permission.
Fabric: Washable red and green plaid print combined with 100% cotton eyelet.
Skirt is a full enough to fit over a full petticoat, shown here on a crystalline 100-yard petti (not included). Bottom tier is made of same fabric, and has flat lace trim on the hem. It is attached with a white narrow ruffled eyelet lace. Above the bottom tier is a white eyelet ruffle trimmed in white lace along both edges. It is attached with a red ruffled lace that has a green wave in the design.
The sleeves are made of the white eyelet fabric. They are finished in white flat lace trim. Sleeves are pleated at the shoulder for a professional finish and are elasticized for upper arm comfort.
The bodice is made from the white eyelet and features a plaid bib going up through the center. Along the edges of the bib are plaid ruffles, attached with the red and green ruffled lace. There are white satin bows at the intersection of the bib ruffles and the skirt waist.
The outfit is completed by a pair of matching plaid bloomers, featuring white bows along the side seams and white lace trim to match the dress.
An extra accessory is a pair of matching bows on barrettes for the perfect hair style that will maximize the look desired from this adorable School Girl.
If you have questions, just ask.

MEASUREMENTS
Chest: 46.5"
Waist: 46"
Bodice: 21" down the back
Skirt: 17.5"
Length from shoulder to hem: 38.5"
Across the upper back between sleeves: 18"
Neck: n/a
~ ~ ~ ~ ~ ~ ~ ~ ~
REMEMBER THIS !!
You can always wear a dress
that is too large,
but you cannot wear one
that is too small.
Check measurements, please!