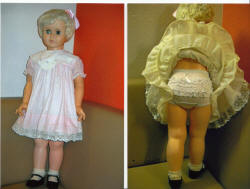 "Doll Copycat"
by UniKaren Designs
PHOTOS ARE COPYRIGHT TO UNIKARENDESIGNS. If you wish to use any photos of me modeling my dresses on your website, you MUST obtain permission.
Fabric: 100% cotton pink with white polka dots, lining is poly cotton blenda
Dress was created to duplicate a 36" doll dress, in a large adult size.
Lined bodice is made short like a toddler style dress. Skirt is hand pleated at the seam for a professional finish. There is a large hem at the bottom, to which a wide flat floral embroidered lace is attached.
The entire dress has a lining. There is a lining in the bodice, and the skirt lining is made with two tiers of fabric to help the dress stick out just a little. Not enough for a full petticoat, but enough that it can swing out when you twirl arond.
The collar is unique insofar as it covers the entire shoulder area, and descends to a center rounded area. It is lined in the same fabric and has white ruffled eyelet lace sandwiched between the seams. The rounded neckline is left plain. Three little rosebud ribbon bows embellish the front of the collar.
Full pouffy sleeves are hand pleated at the shoulder for a professional finish and elasticized at the upper arm for a comfortable fit. Hems are finished with the same eyelet lace as is on the slip hem and the collar trim.
Matching bloomers have four rows of white ruffled eyelet lace across the back. They are elasticized at the waist and leg openings for a comfortable fit. The hems are finished with the same lace to go with the rest of the outfit.
The center back of the bloomers features a ribbon loop, to allow you to store on the same hanger as the dress.
Two bows are made to coordinate with the outfit.



MEASUREMENTS
Chest: 45.5"
Waist: n/a
Bodice: 8.5"
Skirt: 31" incl. lace
Length from shoulder to hem: 39.5"
Across upper back: 18"
Bloomers waist: 34-56"
Bloomers leg opening: 20-36"

~ ~ ~ ~ ~ ~ ~ ~ ~
REMEMBER THIS !!
You can always wear a dress
that is too large,
but you cannot wear one
that is too small.
Check measurements, please!