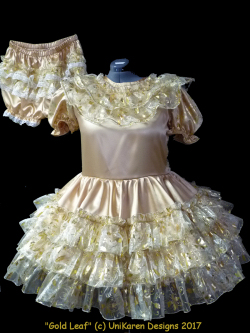 "Gold Leaf"
by UniKaren Designs
PHOTOS ARE COPYRIGHT TO UNIKARENDESIGNS. If you wish to use any photos of me modeling my dresses on your website, you MUST obtain permission.
Fabric: Gold (caramel) satin
Skirt fits a full petti, shown here on 100-yard crystalline one (not included). Gored skirt falls in a beautiful circle. Bottom tier and two upper tiers are made from printed organza, finished with a narrow serged rolled hem in silver threads. The ruffles are attached with a narrow gold ric-rac trim.
Skirt is evenly pleated at the waist for a professional finish. All seams are serged.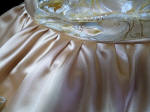 Bodice is simple in design, no darts or shaping. Mannequin is set to 47" and dress fits comfortably. Upper area of bodice has a self-facing made from the satin, and over that facing are two rows of ruffled printed organza finished as per the ruflfes on the skirt.
The round neckline features tiny gold ric-rac trim, and this same gold trim is featured on the ruffles as well.
Large sashes stem from the side seams to create a pretty bow at the center back.
Sleeves feature the printed organza cut to the same shape as the satin. They are hand pleated at the shoulder for a professional finish. Short an poufy, these sleeves hold their own shape. The hems are finished with gold trim.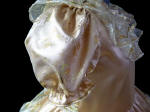 Center back zipper, hook & eye closure at the top.
Matching bloomers finish off this outfit, with elasticized waistband and leg openings for flexibility in fit and comfort. The back of the bloomers features two rows of ruffled organza, finished with a double rolled hem for longevity, and are finished with lace that has gold in the design. An elastic loop is added to the center back so they can be attached to the same hanger as the dress.
Always dry clean satin.
If you have questions, just ask.
MEASUREMENTS
Chest: 47"
Waist: up to 47"
Shoulder to waist: 19"
measured straight down the back from
mid-shoulder seam to waist seam
Waist to hem: 19"
Total Shoulder to Hem: 38"
Shoulder to shoulder
across the back: 18"
BLOOMERS
Waist: 30-52"
Leg openings: 20-32"
Inseam: 3.25"
~ ~ ~ ~ ~ ~ ~ ~ ~
REMEMBER THIS !!
You can always wear a dress
that is too large,
but you cannot wear one
that is too small.
Check measurements, please!