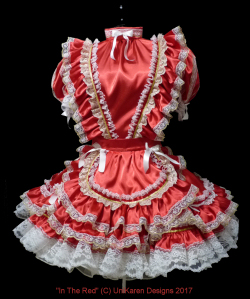 "In The Red"
by UniKaren Designs
PHOTOS ARE COPYRIGHT TO UNIKARENDESIGNS. If you wish to use any photos of me modeling my dresses on your website, you MUST obtain permission.
Fabric: Red satin
This beautiful red dress features loads and loads of ruffles. The full skirt starts out with a bottom tier with wide lace trim along the hem edge, and flat white lace along the upper edge.
The upper ruffle is finished with a flat white lace trimmed with a gold scalloped edge on the hem, a narrower lace along the top edge, and is attached with a ruffled white nylon lace. At the front on either side of the apron the ruffle sweeps up slightly, to show off a white ribbon bow. This ruffles goes all the way around and sweeps up to the center back, where between the sweeps is filled with yards and yards of ruffles.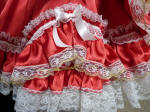 The darted bodice features ruffles going across the shoulders to the center back and center front. Th edges are finished like the skirt ruffles and are attached with a gold & white ruflfed lace, and finished off with a gold flat trim.
The stand-up collar is embellished with a strip of the flat white and gold lace, and features ribbon loops coming out from the collar at the center back, through which a locking mechanism can be inserted (not included).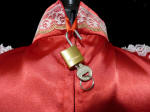 Full pouffy sleeves feature five vertical rows of lace trim, a center feature trim with two strips of gold & white lace on either side. Each sleeve shows off a a wide white ribbon at the side. Wide white floral scalloped lace is used to finish the hems, to match the bloomers. Sleeves are hand pleated at the shoulder for a professional finish and have elastic openings for a comfortable fit.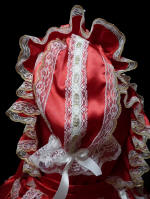 The separate apron features nice long sashes. Ruffles finished the same as the skirt and bodice trim the apron edges, and wide white ribbon bows are featured on the waistband.
Fancy bloomers are made to accompany this dress, with two rows of ruffles on the back side, attached with the ruffled white nylon lace. Waistband and upper leg have elastic finish for a comfortable fit. The hems are finished with the same white wide scalloped lace that finishes the sleeves.
Two garters are included, as well as a little headband made with simple elastic strips attached through which a bobby pin will help it to adhere to the hair.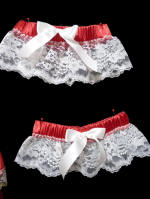 If you have questions, just ask.
MEASUREMENTS
Chest: 43"
Waist: 36"
Bodice: 19.5"
Across the back between shoulders: 17"
Skirt: 17"
Length from shoulder to hem: 34"
Neck: 17"
Bloomers
Waist: 26-42"
Leg opening: 16-28"
Inseam including lace: 5"
Garters: 14-26"
~ ~ ~ ~ ~ ~ ~ ~ ~
REMEMBER THIS !!
You can always wear a dress
that is too large,
but you cannot wear one
that is too small.
Check measurements, please!