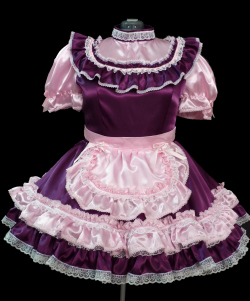 "Morning Glory"
by UniKaren Designs
PHOTOS ARE COPYRIGHT TO UNIKARENDESIGNS. If you wish to use any photos of me modeling my dresses on your website, you MUST obtain permission.
Fabric: Purple satin, combined with baby pink satin.
Skirt fits a full petti, shown here on 17" 100-yard crystalline one (not included). Bottom tier is made of satin with flat lace on the bottom, and a pink & white teardrop flat lace along the top edge. It is attached with ruffled white nylon lace.
Upper ruffle is finished with teardrop pink and white flat lace along both the top and the hem. The upper ruffles sweep up at the center back, and between the sweeps are yards and yards of ruffles.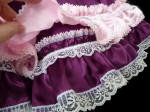 Apron is separate. It has two layers of the base satin stitched together, and is finished with ruffles as in the skirt, attached with the ruffled lace. Two pink ribbon bows are attached to the ruffles. Sashes tie in the back and can be cinched to fit the dress comfortably.
The darted satin bodice features contrasted pink satin in the upper chest area, with purple ruffles attached around the front and continuing to the center back. These ruffles are finished like the pink ones, with the teardrop pink & white lace.
Stand-up collar is made of satin and shows off ruffled white lace. Single hook and eye closure at the back.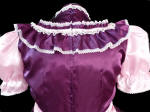 Full pouffy sleeves are elasticized for upper arm comfort. Pleated at the shoulder for a professional finish. A pink satin bow finishes off the sides of the sleeves.
MEASUREMENTS
Chest: 49.5"
Waist: 42"
Bodice: 20" (mid shoulder to waist)
Neck: 19"
Waist to hem: 19"
Across Back: 18"
~ ~ ~ ~ ~ ~ ~ ~ ~
REMEMBER THIS !!
You can always wear a dress
that is too large,
but you cannot wear one
that is too small.
Check measurements, please!