Featured:
Adult Sissy French Maid lockable rufflebutt dress with bloomers, head band, garter. Custom.
Plagiarism: The copying of another person's ideas, text, or other creative work, and presenting it as one's own, especially without permission; Text or other work resulting from this act.


Imitated by many... Duplicated by no one
No profit on shipping, I promise.
NOT RESPONSIBLE FOR POSTAL RATES.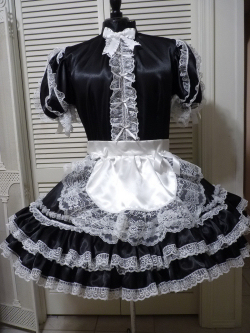 "My Tuxedo Dress"
by UniKaren Designs
PHOTOS ARE COPYRIGHT TO UNIKARENDESIGNS. If you wish to use any photos of me modeling my dresses on your website, you MUST obtain permission.
Fabric: Black satin and white bridal satin
This beautiful black satin dress features loads and loads of ruffles. The full skirt starts out with a bottom tier with 1" lace trim along the hem edge, and flat narrow white lace along the upper edge. It is attached with a wider white ruffled lace.
The upper ruffle is finished with the same trim and is attached with a 1" ruffled white nylon lace. This ruffle goes all the way around and sweeps up to the center back, where between the sweeps is filled with yards and yards of ruffles.
The darted bodice features the same lace that attaches the bottom tier, face to face and decorated with a black and white galoon lace. There is a large white bow at the center top of the bodice, and four tiny bows along the center front.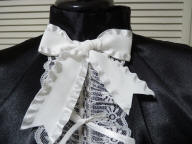 The stand-up collar features elastic loops coming out from the collar at the center back, through which a locking mechanism can be inserted (not included).
Full pouffy sleeves feature five vertical rows of lace trim, the center ones being the same as the center front of the bodice, with ruffled white on either side of center, matching the lace that attaches the upper ruffle of teh skirt. Each sleeve shows off a a wide white ribbon at the side. Wide white floral scalloped lace is used to finish the hems, to match the bloomers. Sleeves are hand pleated at the shoulder for a professional finish and have elastic openings for a comfortable fit.
The separate apron features a bridal satin fabric. The wide ruffled lace matches the lace on the sleeves and bloomers. and wide white ribbon bows are featured on the waistband.
Fancy bloomers are made to accompany this dress, with three rows of ruffles on the back side, attached with the ruffled white nylon lace. Waistband and upper leg have elastic finish for a comfortable fit. The hems are finished with the same white wide scalloped lace that finishes the sleeves. A large white bow is attached to either side of the leg, to match the one at the top of the bodice.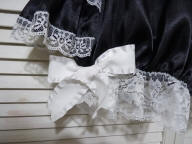 A garter is included, which features wide white lace and a white ribbon bow, as well as a little headband made with simple elastic strips attached through which a bobby pin will help it to adhere to the hair.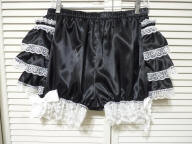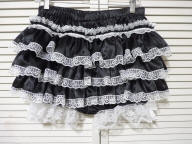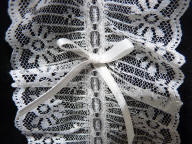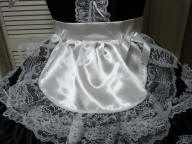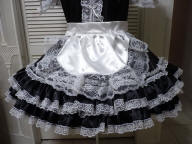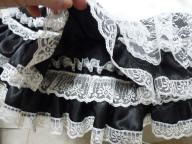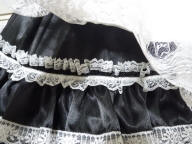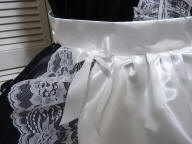 If you have questions, just ask.
MEASUREMENTS
Chest: 44"
Waist: 37"
Bodice: 19.5"
Across the back between shoulders: 17"
Skirt: 16.5"
Length from shoulder to hem: 36"
Neck: 17"
Bloomers
Waist: 28-46"
Leg opening: 14-30"
Inseam including lace: 5"
Garter: 14-26"
~ ~ ~ ~ ~ ~ ~ ~ ~
REMEMBER THIS !!
You can always wear a dress
that is too large,
but you cannot wear one
that is too small.
Check measurements, please!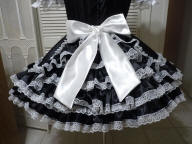 \


Headband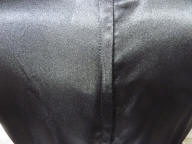 About UniKaren Designs: Purchasing a UniKaren Design means you are getting an ORIGINAL outfit. Since I was a teenager, I have been designing and sewing square dance outfits... it's been 40 years now. To this day I still have hundreds of design ideas and I look forward to seeing them come to fruition, and hope that you will continue to enjoy what I create.
Privacy Policy: All items are discretely packaged. Tissue is folded into the outfit to prevent wrinkling as much as possible. Item is then wrapped in plastic before box packaging. A mailing label is placed on the inside parcel in the event the outside parcel is damaged. For items going outside of the country, please inform me as to what you want written on the declaration. I respect your need for discretion.
Terms & Conditions: All items are made from new fabric and notions. They are not usually pre-washed, however to ensure washability of this outfit, the organdy fabric was prewashed and dried. It comes out of the dyer with virtually no wrinkles. All reasonable efforts are made to accurately display the attributes of the products, including the appropriate colors; however, the actual color you see will depend on your computer system and there is no guarantee that your computer will accurately display such colors. All outfits are designed and sewn by me. I take a great deal of pride in my workmanship. Seams professionally finished & pressed. Your satisfaction with the product is of the utmost importance to me. If you are not completely satisfied, please notify me immediately. Shipping from smoke-free and pet-free environment.
Payment Options: Paypal preferred please!



Shipping: No profit on shipping, I promise. No handling fee.