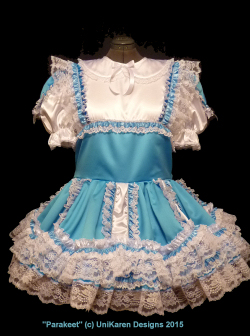 "Parakeet"
by UniKaren Designs
PHOTOS ARE COPYRIGHT TO UNIKARENDESIGNS. If you wish to use any photos of me modeling my dresses on your website, you MUST obtain permission.
Fabric: Pure white shiny satin, combined with heavy bridal weight parakeet blue bridal satin.
Flat bodice is made of white satin and has a blue overlay on the bottom half. Ruffles are made of blue satin with wide 3" floral lace on one edge and narrow white lace on the opposite edge. The ruffles are attached with a double ruffled lace consisting of blue satin over white nylon. Peter Pan collar has white ruffled lace sandwiched between the two layers, and a white satin ribbon bow embellishes the center front neckline.
Skirt is hand pleated at the seam for a professional finish.
It is a 16-panel skirt consisting of wide blue panels and narrower white panels. Panels are trimmed along the seams with the double ruffled lace, as well as a silver trim.
The bottom tier consists of a narrow strip of the blue satin with wide white lace creating the hem. The top edge is finished with white narrow lace.
An extra row of ruffles sits above the bottom tier, white satin with white lace trim. These ruffles sweep up at the white panels.
Satin sashes stem from the side seams and create a bow over the center back zipper.
Full pouffy satin sleeves feature a triangular overlay of blue satin fabric that matches the bib. A white satin bow finishes off the point of the triangle. White lace finishes the hems.
MEASUREMENTS
Chest: 46.5"
Waist: 46.5"
Bodice: 21"
Skirt: 18"
Length from shoulder to hem: 39"
Neck: 21"
~ ~ ~ ~ ~ ~ ~ ~ ~
REMEMBER THIS !!
You can always wear a dress
that is too large,
but you cannot wear one
that is too small.
Check measurements, please!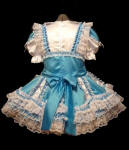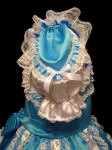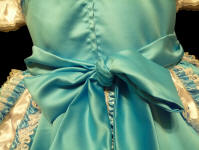 If you have questions, just ask.