Featured:
Classic UniKaren Designs in light pink taffeta with attached apron. Custom.
Plagiarism: The copying of another person's ideas, text, or other creative work, and presenting it as one's own, especially without permission; Text or other work resulting from this act.


Imitated by many... Duplicated by no one
NOT RESPONSIBLE FOR POSTAL RATES.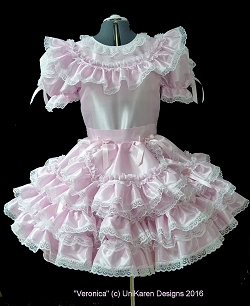 "Veronica"
by UniKaren Designs
PHOTOS ARE COPYRIGHT TO UNIKARENDESIGNS. If you wish to use any photos of me modeling my dresses on your website, you MUST obtain permission.
Fabric: Light pink taffeta
The full skirt fits over a very full petticoat, shown here on a 150-yard crystal organza pink petti, not included.
The bottom tier is made of the pink taffeta and has white lace along the top edge, and flat white lace along the hem. The next ruffle up is made from the same fabric and features the same lace trim.
There is a third row of ruffles that practically fill up the skirt, all finished in the same manner. At the intersection of each seam of the skirt, a pink satin bow is attached.
The apron is attached at center front, is self-lined, and finished with self ruffles, attached with ruffled white nylon lace. Two pretty pink satin bows embellish the top of the apron where the ruffle meets the waist.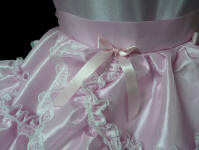 Bodice features a lace ruffle close to the neckline, and a wide fabric ruffle that goes from front to back. It is attached with white ruffled lace.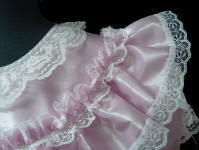 The sleeves are finished in white flat lace trim. Sleeves are pleated at the shoulder for a professional finish and are elasticized for upper arm comfort. They feature the classic UniKaren Design triangular overlay, in a beautiful white lacey fabric, which is finished along the edges with a ruffled white lace that matches the neckline lace. The points of the overlay feature pretty pink satin bows.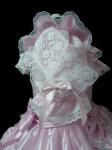 Sashes stem from the side seams and form a perky feminine bow at the center back.
Center back is finished with a zipper, and the top of the zipper has little ribbon loops through which a locking mechanism (not included) can be inserted.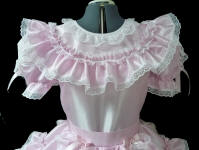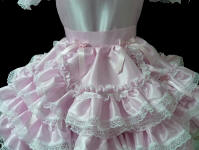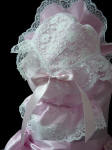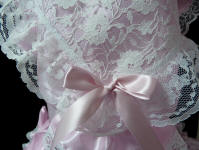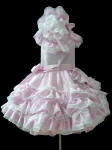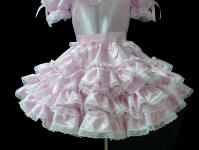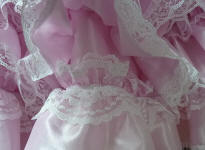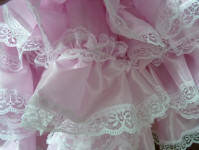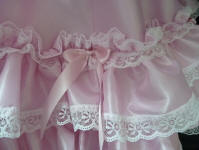 If you have questions, just ask.
MEASUREMENTS
Chest: 42"
Waist: 37"
Bodice: 19" down the back
Skirt: 19"
Length from shoulder to hem: 38"
Across the upper back between sleeves: 17"

~ ~ ~ ~ ~ ~ ~ ~ ~
REMEMBER THIS !!
You can always wear a dress
that is too large,
but you cannot wear one
that is too small.
Check measurements, please!