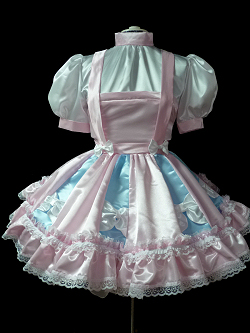 "White Bow Peep"
by UniKaren Designs
PHOTOS ARE COPYRIGHT TO UNIKARENDESIGNS. If you wish to use any photos of me modeling my dresses on your website, you MUST obtain permission.
Fabric: Baby pink shantung satin, baby blue bridal satin, white satin
Skirt fits a full petti, shown here on 100-yard crystalline one (not included). Skirt is designed with alternating wide pink panels and narrower blue panels. On each blue panel there is a white bow sewn into place towards the bottom.
The bottom tier is made from the pink satin and is finished with white lace trim on the upper edge and the hem edge. It is attached with a double ruffled satin-over-nylon lace.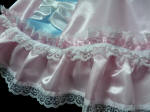 Bodice base is made of white satin. The contrasting pink bib is attached, and finished with straps of the same fabric going from over the bib to center back. Straps are stitched at the shoulders and also following the horizontal stitching line of the front and back bands, to help keep them into place.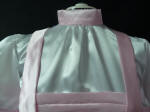 Little white satin bows finish off the points of the straps in the front and back, even though the back ones are covered by the sashes when done up.
Sleeves are made of white satin, and the sleeve cuffs are made from pink satin and match the stand-up collar, also made of the pink satin. Sleeves are pleated at the shoulder and into the arm band for a professional finish.
Stand-up collar has a hook and eye closure.
Pink satin sashes stem from the side seams and tie into a lovely feminine bow at the center back.
If you have questions, just ask.
MEASUREMENTS
Standard size Ladies 14
Chest: 41"
Waist: 33"
Shoulder to waist down back: 17"
Waist to hem: 18" including lace
Total Shoulder to Hem: 35"
Shoulder to shoulder
across the back: 16"
Neck opening: 15"
Sleeve band: 13"
~ ~ ~ ~ ~ ~ ~ ~ ~
REMEMBER THIS !!
You can always wear a dress
that is too large,
but you cannot wear one
that is too small.
Check measurements, please!