IMPORTANT MESSAGE
I have acquired a brand new wedding dress (tags still attached to left sleeve)
valued at $499.00. I bought it thinking it would be suitable
for ballroom dancing, however it's much too formal.
I would like to sell it. It fits me perfectly (I'm size 7 but the tag says size 5).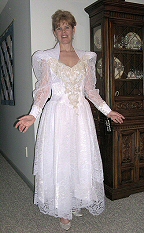 If you are interested, please contact me by email.